On 16 October, fashion week returns to Seoul for its eighth season. Outside the show headquarters at the neo-futuristic Dongdaemun Design Plaza, young women and men will soon appear in their latest Balenciaga and Vetements acquisitions (or close approximations thereof), vying – with various degrees of non-subtlety – for the attention of street style photographers. The scene will be familiar to anyone who's attended a fashion show in New York, London, Paris or Milan. But there's one thing that's unusual about this particular city: the most interestingly or outlandishly dressed aren't the ones who attract the most attention.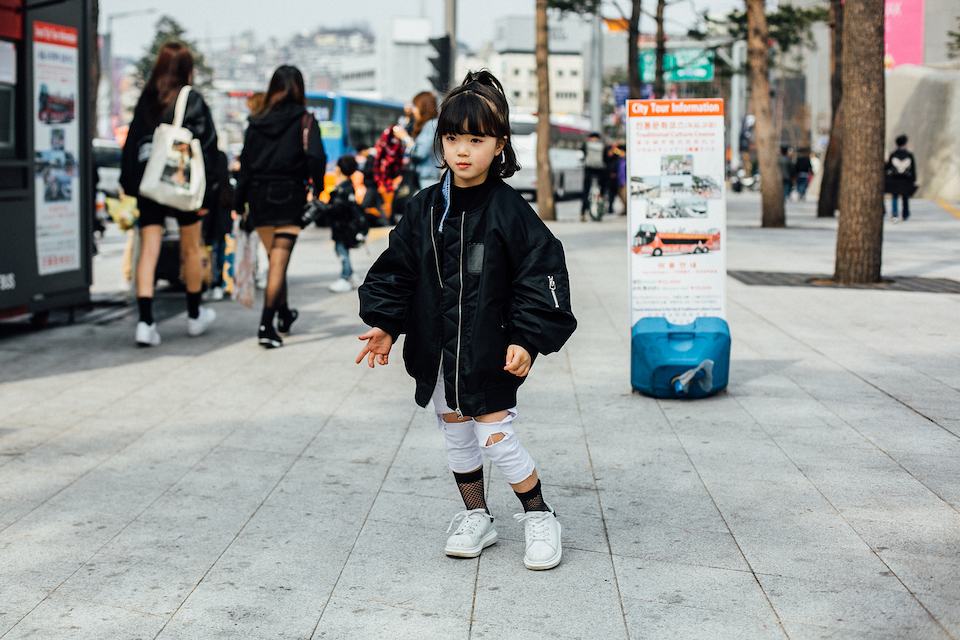 Rather, it's children, outfitted in brightly hued ensembles that run the gamut from classic childrenswear (think denim pinafores, tights and Mary Janes) to edgy streetwear, rendered adorable in miniature.
At the urging of their parents close by, these children employ many tricks to ensnare the attention of camera-wielders: standing in color-coordinated groups, waving teddy bear-shaped balloons, even singing.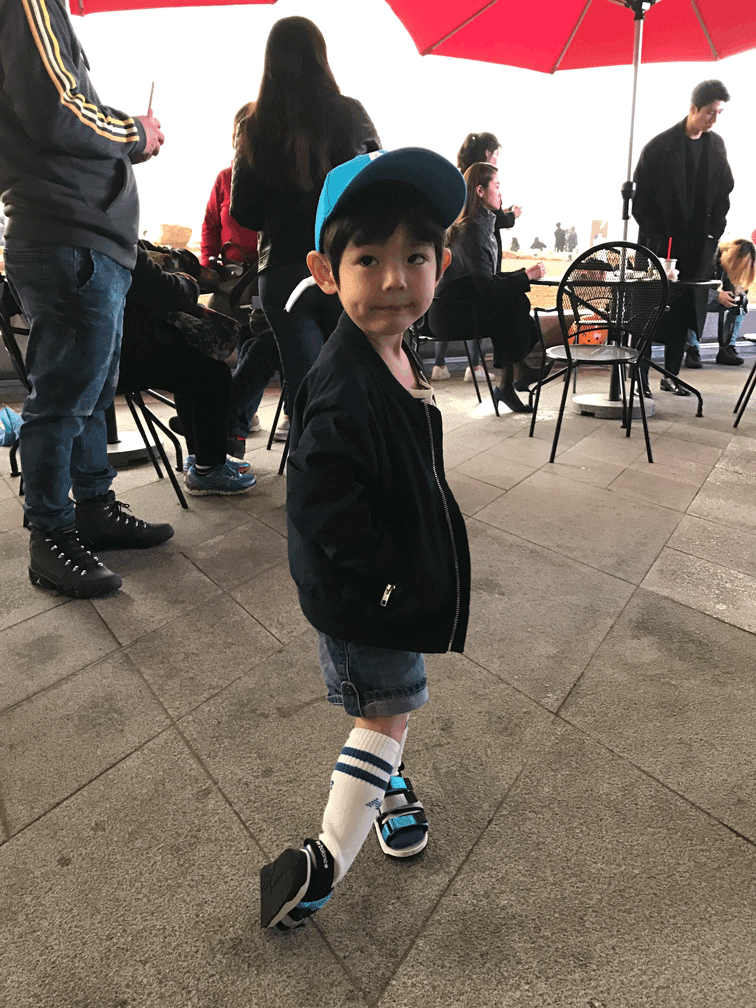 At Seoul Fashion Week last April, we met four-year-old Geo, one of the dozens of children making the rounds for photographers. With his large eyes, thick mop of black fringe, and ears poking out from under a blue baseball cap, he was a natural draw for nearby cameras.
Each time a photographer approached him, Geo struck a pose he'd been practicing with his mother, swiveling his body 90 degrees to flash the New Balance logos on a pair of white ribbed athletic socks and velcro-strap sandals.
Geo's mother showed me her son's Instagram page, where he is billed as an "Instagram model" with more than 28,000 followers. When she took Geo to be photographed outside the headquarters for the first time in October 2016, someone from the marketing department at New Balance took notice, asking her if she would dress Geo in the socks and sandals he was sporting that day. She declined to say whether he had been paid to wear them.
In the wake of the 2008 economic recession, many adult-focused outdoor and athletic brands, including North Face and New Balance, launched lines for little ones. To promote them, these brands have sought partnerships with the youngest of digital influencers – particularly around Seoul Fashion Week, where major media are present. "Every year, we take pictures with kid models at Seoul Fashion Week," says Catherine Sunhye, who oversees marketing for New Balance Kids in Korea. It's an investment worth making because of the rapid expansion of the children's clothing market in Korea, she adds.
Children's clothing is certainly big business in Korea. According to Clevia Shin, a Seoul-based strategic consultant at global branding agency Interbrand, sales of children's clothing in the country outpaces that of adults'. Shin attributes this phenomenon to the Korean obsession with reality TV and Scandinavia, where many parents have eschewed traditional children's wear in favor of miniaturized adult styles.
"Korean moms love to show off their lifestyles, including their husband's fashion and even their kids', more than Instagram users in any other country."
Influencers are of course nothing new. But the desire to achieve influencer status is especially strong among Korean mothers, says Shin. Whereas parents in New York or Paris may not dream of showing off their kids at fashion week for fear of exploiting them – Kim Kardashian excepted – there are plenty of Korean moms eager to do exactly that, making it ripe territory for apparel and footwear brands.
"We all know that social media, especially Instagram, is a well-known tool for showing off," Shin says. And "Korean moms love to show off their lifestyles, including their husband's fashion and even their kids', more than Instagram users in any other country."
But it's only a matter of time before the West catches on, according to Sylvana Durrett, chief executive officer of Maisonette, a New York-based shopping site for upscale children's clothing. "We are witnessing the start of booming demand in the West for fashionable kids clothing," she says. "It is in large part fueled by digital influencers: moms who love to show their kids in cool, unique clothes. Brands are just now starting to understand the power of these influencers."