Thirty miles out of the old mining town of Leadville the road twisted 180-degrees and rose dizzyingly above and behind us. I had been comfortably out of breath for the past hour, but as a gentle climb through pine forests gave way to a 6% treeless grind I could feel panic build.
Independence Pass reaches 3,685 metres as it crosses the continental divide, the spine of the Rockies separating the Pacific and Atlantic watersheds. That's nearly 900 metres above the highest point ever reached on the Tour de France (the Col de la Bonette at 2,802m) – and way beyond anything I had ever attempted on a bike.
A 6% slope shouldn't be so hard but somehow stage five of the 520-mile Haute Route Rockies found me simultaneously gasping while breathing in slow motion: desperate for the next lungful before I could finish expelling the last. I was out of sync, in deficit, disconnected.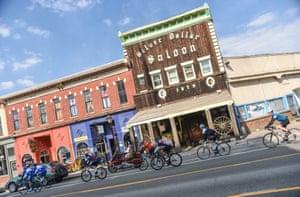 The Haute Route is a series of tough week-long events held every year across the mountains of the Pyrenees, Alps and Dolomites. They are the closest an amateur can get to riding a multi-day pro race: moving hotels, managing nutrition, daily massages, police motorcycle outriders, support vehicles and roadblocks, the long days in the saddle, the early mornings and early nights.
Some of the 500 taking part in the inaugural Haute Route Rockies were regular riders for whom it was enough just to complete seven days across mountainous tarmac and rarely-ridden gravel in the high country of Colorado. Many, though, were serious amateur racers testing themselves against ex-pros like former RadioShack rider Matthew Busche and British Olympian Emma Pooley. Judging by their slight frames and shaved legs they took their racing seriously (one or two maybe too seriously).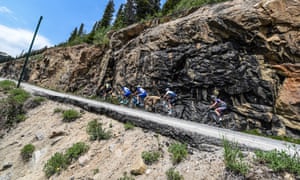 It is a challenge to prepare for high mountains when you live at sea level, and difficult to find time to train at all with work and family commitments. I started using Zwift around 18 months ago when it was on beta and I was soon hooked, pitting myself against thousands of riders from around the world in a weekly fix of races. For decades, turbo trainers had only really been loved by time trialists like Chris Boardman and Michael Hutchinson – you had to be supremely motivated to put up with that kind of boredom. Zwift's hyper-real 3D world and addictive gameplay changed all that.
When a broken arm stopped Australian pro rider Mathew Hayman riding his bike on the road in the runup to the classic Paris-Roubaix race last year he turned to virtual training, balancing his plaster cast on a step ladder in his garage as he thrashed out the miles on Zwift. The results were spectacular.
Hayman's coach, Kevin Poulton, drew up a schedule to prepare me for the Rockies, so five nights a week for a month and a half I completed a one-hour interval session around Zwift's virtual 3D world. Puddles of sweat on the spare room floor were testament to the toughness of the training – but could it be adequate preparation for the rigours of a real-life race?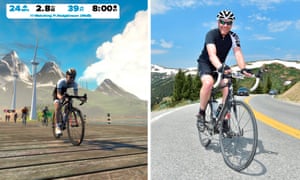 The chance to follow in the wheels of Tour de France legends up ascents like Alpe d'Huez or the Tourmalet is a big draw for cyclists in the Alps and Pyrenees. If the climbs of Colorado lack the rich cycling history of Europe, the ear-popping heights of Independence Pass are as close as it gets. It is the state's "most iconic climb" in the words of Haute Route race director Chandler Smith, and featured many times in the Coors Classic (won in 1988 by local cyclist Davis Phinney, father of Taylor) and the now-defunct USA Pro Challenge.
As I inched by the pass's "5K to summit" sign it was time to call on my virtual-world training. I made a rough calculation. Three miles to go at my current crawl should be over inside 30 minutes. In turbo training terms, that corresponds to a zone 3 "tempo" effort – the kind of out-of-breath but not gasping push you can sustain for half an hour. I knocked down to an easier gear and tried to hit the sweet spot I knew so well from my spare room. When I made out the continental divide monument in the lunar landscape ahead I knew it was over.

The Haute Route only times sections where race organisers can give riders priority at junctions, meaning a system of rolling roadblocks, marshalls and police motorcycle outriders. The clock stopped at the top so we were able to enjoy a leisurely feed at the aid station before it was back on the bike for the run down to the manicured chalets of Aspen in the valley below. The smooth, wide tarmac and long, sweeping curves of Colorado's highways were a revelation for someone with limited descending ability. I rarely had to touch the brakes.
Once over the finish line at Snowmass ski resort the day followed the same basic pattern: another feed (my GPS reckoned I had burned 6,000 calories), a shower and a complimentary 15-minute massage to patch up any niggles. Next came the daily post-race briefing, where competitor and former pro Janel Holcomb gave us tips on how to tackle the rarely visited dirt roads that make up a quarter of the route – basically, stay seated on climbs to keep your weight over the back wheel and never stop pedalling.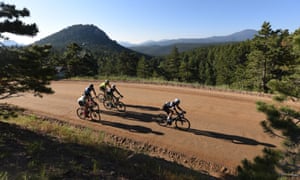 Sections such as the 3,100m Kebler Pass on stage six are only passable for a couple of months a year, and safely negotiating 10% gravel slopes requires a whole new set of skills you can't learn on a turbo trainer. Holcomb's tips and Colorado's fondness for magnesium chloride (a dust suppressant with environmental consequences) certainly helped – though I saw a few riders emerging from ditches nursing grazed legs and bruised egos, and heard of two broken collarbones.